Tilt retires from L2H with torn mainsail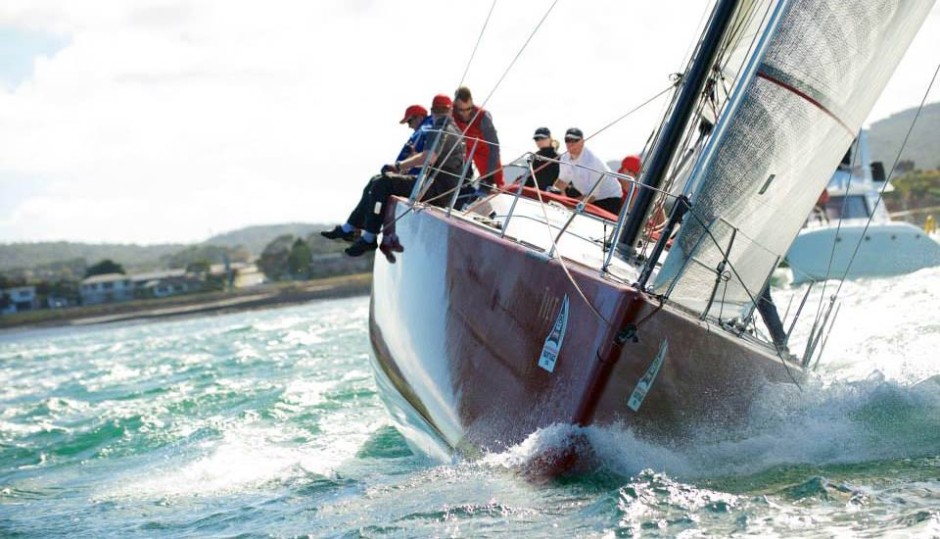 Last year's line honours winner of the Launceston to Hobart Yacht Race, Peter Cretan's Tilt, has been forced to retire from this year's race with a torn mainsail.
The Marten 49 held a narrow lead at the time as she sailed down the Freycinet Peninsula on Tasmania's East Coast.  Tilt's retirement has left Gary Smith's The Fork in the Road with a clear lead over the fleet as she cleared The Mercury Passage shortly after 7am today.  However, The Fork in the Road is not expected to finish the 285-nautical mile until this evening.
Heading the handicap honours this morning are Jeff Cordell's B&G Advantage (IRC) and Stewart Geeves' Footloose (AMS and PHS), both former winners of the L2H.  "I telephoned Tilt last night to check the reason for their retirement and check that they were all OK;  they said the mainsail had began to rip and they were concerned it would widen if they continued the race," Derwent Sailing Squadron Sailing Manager Michael Denney said this morning.
At 7am today only three boats were sailing through The Mercury Passage inside elongated Maria Island – The Fork in the Road, second placed Rad, Brent McKay's Radford 35, and B&G Advantage.  Most of the fleet were on a broad reach across Great Oyster Bay towards Maria Island after a night of constant tacking down the East Coast into southerly headwinds. At 7am the Fork in the Road was making 5.4 knots with 73 nautical miles to sail, Rad was five miles astern, just ahead of B&G Advantage.
The Fork in the Road and TIlt had been swapping line honours in the Riversdale Estate Wines L2H since the start from Beauty Point on Wednesday morning.  The Bakewell-White 45 now seems assured of her sixth line honours win in the race while B&G Advantage has a firm grip on IRC with Team Whistler (David Aplin) dropping down in standings overnight.  Footloose has been at the top of AMS and PHS standings since the fleet cleared Banks Strait for the fast spinnaker run down the East Coast.
The forecast of a 15 knot Noréaster later today should strengthen her position in both handicap categories. The smallest boat in the fleet, Pukana, also retired last night, citing her position and lack of wind.  The tracker this morning showed her position, still heading for Hobart, as off Humbug Point, just south of Binnalong Bay, with 171 nautical miles to sail.
Words:  Peter Campbell
Photos:  Micheal Denney
0800/29 December 2017
Categories:
Uncategorized