Colleen Darcy back aboard Absolut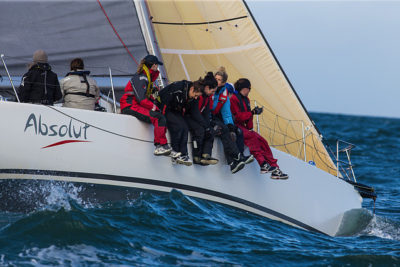 Back in June this year,  Colleen Darcy,  one of Hobart's foremost yachtswomen, helmed the borrowed Victorian yacht Absolut to near victory in the Australian Women's Keelboat Championship on Port Phillip.
Next Tuesday, 27 December, Colleen will be sailing again aboard Absolut in the 285 nautical mile National Pies 10th Launceston to Hobart,  a testing offshore race along the North-East and East Coasts of Tasmania.
Absolut, a well-performed Archambault 35 owned by Richard Gates,  a member of the Royal Yacht Club of Victoria, is one of a record 47 boats entered for the 10th Launceston to Hobart Race.
Gates loaned the boat to Colleen and her all-women crew, with the Tasmanians finishing runner-up in two handicap divisions of the AWKR.
In a reciprocal gesture,  she and other DSS members are providing the basis of the crew for Absolut in the L2H, headed by Commodore Steve Chau.
Most are regular crew of the Hobart yacht Young Lion, owned by Commodore Chau and prominent DSS member Scott Brain.  Other Tasmanians in the crew are Andrew Davidson and Tammy Potter, who was a member of Colleen's crew at the AWKR.
They will join Absolut's owner and two other Victorian yachtsmen for the race,  which starts of Inspection Head wharf at Beauty Point at 10.30am next Tuesday,  27 December.
The race has drawn entries from southern and northern Tasmanian yachts clubs,  along with Absolut from Victoria and the Queensland multihull Nicky C, a performance orientated cruising catamaran.
Heading the fleet and again expected to duel for line honours are Gary Smith's Bakewell-White 45 and Peter Cretan's Martens 49 Tilt.  Howevr, the catamaran could provide a fast front-runner.
The fleet also includes five past overall handicap winners: B&G Advantage (Jeff Cordell), Masquerade (Tony Harman), Off-Piste (Paul Einoder), The Fork in the Road (Gary Smith) and Footloose (Stewart Geeves).
Words:  Peter Campbell
Photos:  AWKR and others
22 December 2016
Categories:
Uncategorized