Fleet finally picks up speed off East Coast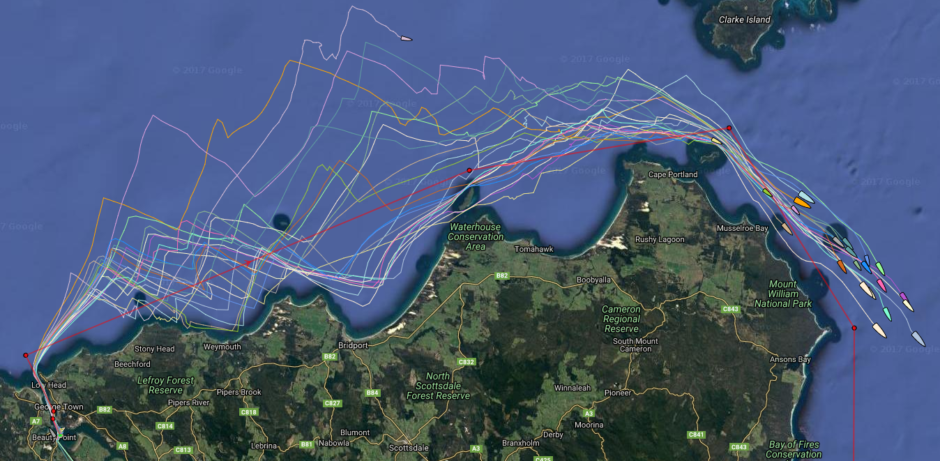 After a night virtually stuck in a windless Banks Strait, the front runners in the Riversdale Estate Wines Launceston to Hobart have finally "turned the corner" and are heading down the East Coast before a fresh northerly breeze.
The Fork in the Road has regained the lead and at 10am was abeam of Eddystone Point, with skipper Gary Smith taking a course more to seaward of nearest rival, Peter Cretan's Tilt. The tracker at 10am placed The Fork in the Road and Tilt only a quarter of a sea mile apart in distance to the race finish (which looks like late on Friday).
After a wet morning,  the sun is shining along the coastline of the Mount William National Park with most of the fleet now clear of Banks Strait. However,  the fleet is still closely bunched  with small boats dominating handicap standings.
Close astern of The Fork in Road comes Jeff Cordell's B&G Advantage which early this morning was a narrow overall fleet leader. Ran (Brett McKay) is in fourth place followed closely by Team Whistler (David Aplin). Heading the AMS and PHS leader boards was Stewart Geeves' Footloose while another of the smaller boats in the fleet, Phil Soley's Mako, was at the top of IRC standings. During the 12 hours from 6pm yesterday to 6am today, The Fork in the Road covered just over 30 nautical miles from near Waterhouse Island to Swan Island.
Fleet positions on the tracker at 6.00am showing B&G Advantage, The Fork in the Road and Team Whistler just a few hundred metres apart. Tilt was back to fourth in fleet, close astern of the first three boats as the leaders sail slowly out of the tidal flows of the strait that separates the Furneaux Islands from the north-east tip of Tasmania.  Footloose and Mako had then taken top provisional placings in the AMS, PHS and IRC. At 10am today, The Fork in the Road had 194 nautical miles to sail, still well short of the halfway mark after 22.5 hours of sailing.
Words:  Peter Campbell
Photos:  Mike Denney
10:30/28 December 2017
Categories:
Uncategorized