FORK IN THE ROAD HAS DONE IT AGAIN!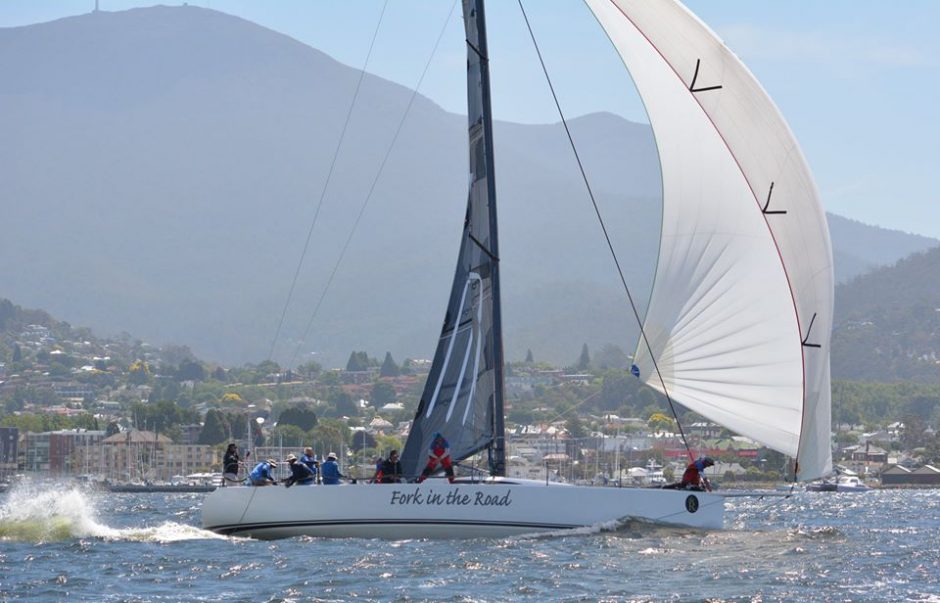 Hobart sailor Gary Smith has again taken out line honours in this year's Riversdale Estate Wines Launceston to Hobart Yacht Race. Smith sailing his Bakewell-White yacht Fork in the Road Yachting has defended his title for his 8th consecutive line honours win.
Racing between Victorian yacht Dream, and Fork in the Road has been extremely close since the start, at times being only 100 metres apart, with Dream taking the lead for a short time at Cape Raoul, in classic match racing conditions. The finish was extremely close with only 10 minutes and 43 seconds between the two boats.
Smith again praised his crew on an outstanding effort and acknowledged the excellent performance of Dream. "Dream was the dark horse of the race and sailed impressively".
Tim Olding's, Summit 35, Vertigo is currently provisional winner of IRC and AMS, closely followed by Matthew Keal's Heatwave – Mumm 36 also finishing close behind Vertigo and sitting in 2nd position in the provisional results.
Brent McKay's, Rad had a great comeback to finish 3rd over the line and provisional results have him as 1st on PHS.
Co-Race Director Ron Bugg has been impressed with the fleets performance, particularly with the front runners and how close they were in the finish times. "This years L2H has been a match race between Dream and Fork in the Road and in the latter part of the race Fork in the Road's local knowledge and crew experience won through for line honours. Dream has had a fantastic race for a 50 foot cruiser racer and it's great to see our Victorian visitors supporting the race and doing so well".
With 14 yachts still at sea the finish of the Launceston to Hobart Yacht Race is expected to wrap up by tomorrow morning.
Words/Photos: Colleen Darcey
Riversdale Estate | Derwent Sailing Squadron Inc | Tamar Yacht Club | Australian Sailing – Tasmania
Categories:
Uncategorized