L2H start line moved down Tamar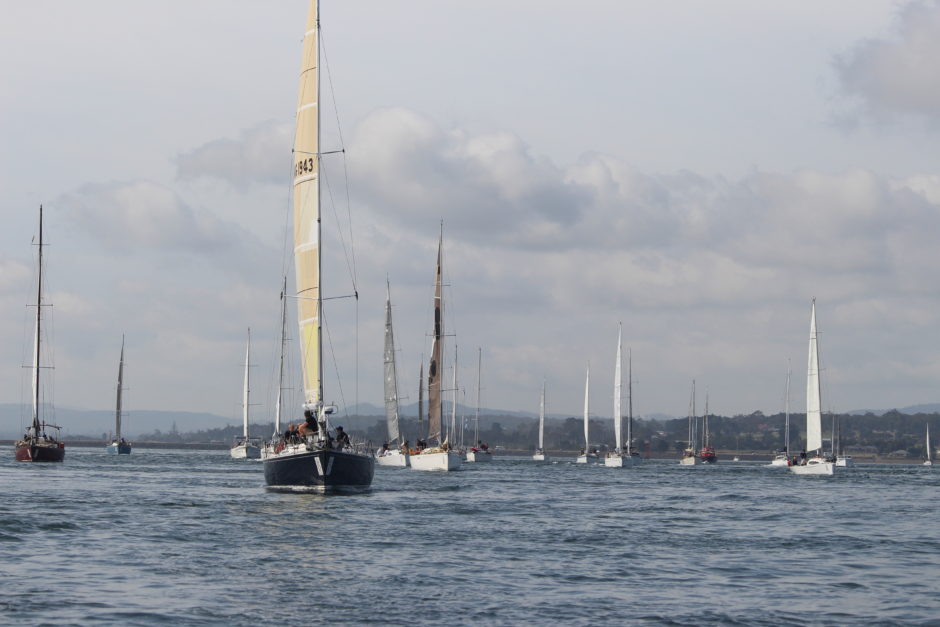 The start of the Riversdale Estate Wines L2H Yacht Race, scheduled for 09:00 hours today, has been postponed. The start line is being moved down the Tamar River to a new position either abeam of Low Head Lighthouse or into Bass Strait, east of the river entrance. Tamar Yacht Club race officer Tom Baines made the call at 08:50 hours after consultation with the Derwent Sailing Squadron officials, hoisting the postponent flag and the 'L' (follow me flag).
Most of the 26 boat fleet began heading down river before the committee boat had hoisted its anchor off Inspection Head wharf. "There is absolutely no wind on the river at this moment and a slight out-running tide," DSS Vice Commodore and Chairman of the Race Committee chairman Nick Connor said shortly after the signals were hoisted. "We could not take the risk that some of the boats would be stuck in the river with little wind and an incoming tide," Connor added. "that would put an end to their L2H race."
With about six miles from Beauty Point to Low Head, it's unlikely the 285 nautical mle race will get under way for another hour, with a sizeable spectator fleet following the yachts down past Shag Rock, Clarence Point towards, Green Island and George Town to Low Head.
The race officer will make a decision on setting the new start line once the committee boat reaches Low Head, with the alternatives of just inside the mouth of the Tamar or out in Bass Strait, east of the entrance. From there it looks like being a long, slow slog to windward towards notorious Banks Strait which seperates the Furneaux Island from the NE tip of Tasmania.
However, once through the Strait and into the Tasman Sea the fleet should enjoy some fast spinnaker running down the East Coast before building nor'easterly and north-westerly winds.
Words: Peter Campbell
Photo: Peter Watson
09:00 hours, 27 December 2018
Categories:
Uncategorized