Oskana crew eying Launceston to Hobart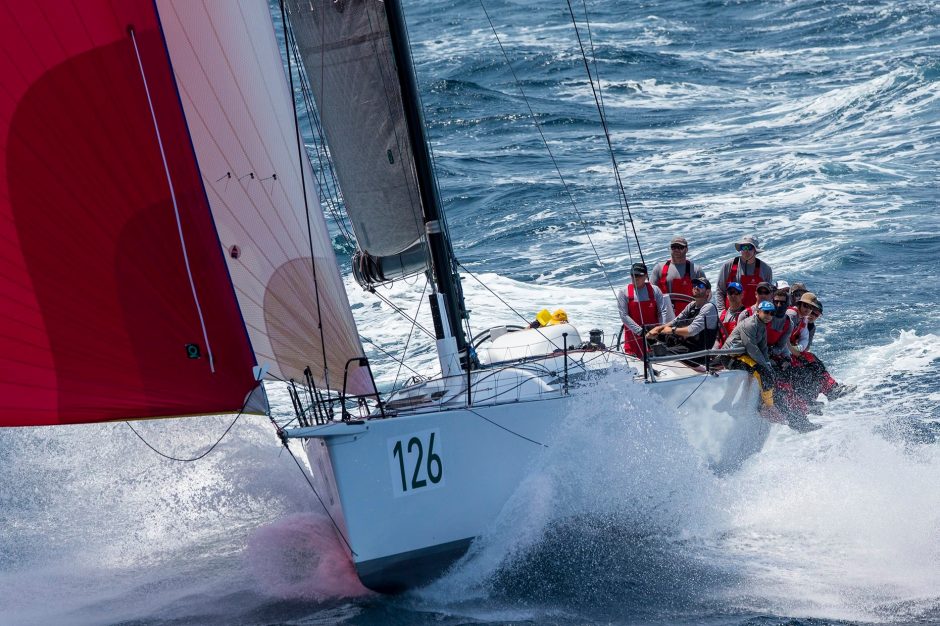 Crack harbour and ocean racing yacht Oskana may contest this year's Launceston to Hobart Yacht Race – if the young family of owner/skipper Mike Pritchard's can convince him to enter the 280 nautical mile coastal offshore race.
Oskana, a powerful Cookson 50 and arguably Tasmania's fastest locally-based racing yacht, has been contesting the Combined Clubs Winter Series on the Derwent with Pritchard's wife Bianca and their children, Oliver, Oscar, Stella and Sebastien in the crew.
"We understand that his family are pressuring Mike to do the L2H race so that they can race as a family in a long offshore race," Derwent Sailing Squadron Vice Commodore Nick Connor said yesterday.
"If Oskana does compete then the race record will definitely be under threat," Vice Commodore Connor said, adding that the race provided opportunity for crew under the age of 18 to participate subject to certain criteria.
"Pritchard, noted as a prominent Targa driver and a successful ocean racing yachtsman, has told the DSS he is 'considering' entering the L2H.
"The Launie is also very well suited to family crews…. last year we had six or seven boats raced by families, including the winning yacht from Victoria, Vertigo."
The Notice of Race for the Launceston to Hobart, which starts from Beauty Point on the Tamar River on 27 December, will be issued within a few weeks.
Vice Commodore Connor emphasised that this year's race would be conducted subject to any required restrictions by Tasmanian Health Authorities, adding that as things stand he could see no reason why it would not go ahead.
"We expect a bumper fleet with Tasmanian yachts that may normally contest the Sydney Hobart potentially seeing the Launceston to Hobart as a challenging alternative should that races not proceed…. we already have a lot of interest." Vice Commodore Connor added. "Unfortunately, we doubt there will be any Victorian entries this year."
The Ocean Racing Club of Victoria have not made a decision on whether the Melbourne to Hobart race will go ahead and the Cruising Yacht Club of Australia will make an announcement on the Rolex Sydney Hobart Yacht Race in mid-October.
The Sydney to Gold Coast Race start has been rescheduled for 3 October but the COVID-19 cloud may further impact on this event.
In Queensland, Hamilton Island and Magnetic Island Race Week regatta have been cancelled for this year, but Airlie Week Race Week got under way yesterday (Friday).
Words: Peter Campbell
Photo: Andrea Francolini Photography
Derwent Sailing Squadron Inc I Tamar Yacht Club I Oskana
Categories:
Uncategorized