Philosopher confirmed Overall L2H winner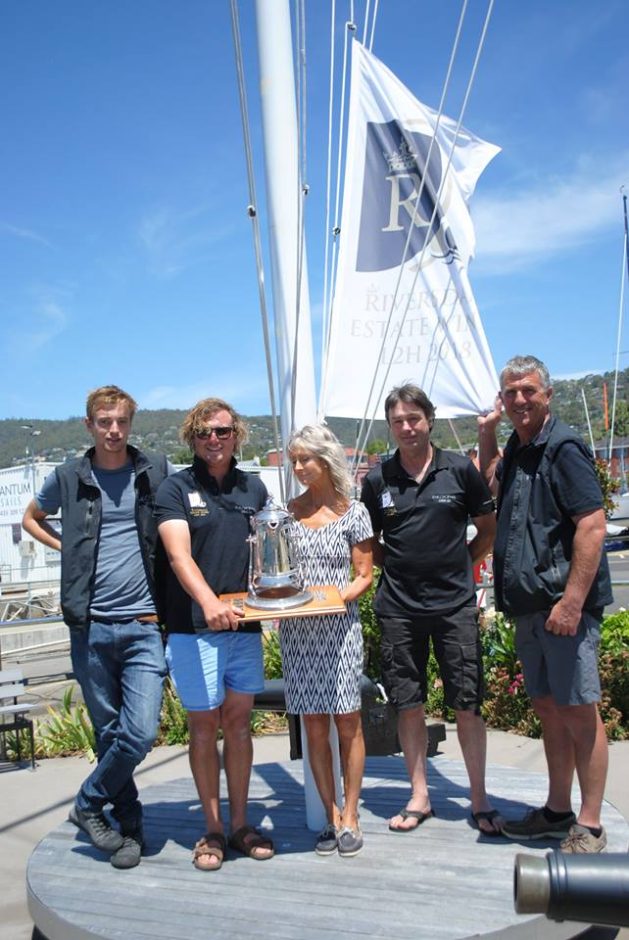 It's official, Shaun Tiedemann's Australian champion yacht Philosopher was this afternoon declared the Overall winner of the Riversdale Estate Wines L2H 2018. The official results of the race were announced at the prizegiving at the Derwent Sailing Squadron with Professor the Honourable Kate Warner AC, presenting trophies.
Earlier in the day, a protest hearing had granted redress of 20 minutes to Philosopher for standing by the dismasted RAD off Tasman Island at the height of the 50-60 knot north-westerly storm in the early hours of last Saturday morning. The redress made no difference to the placings in three handicap categories, with the placings confirmed as:
Overall: Philosopher (Shaun Tiedemann, DSS)
IRC: 1 Philosopher (Shaun Tiedemann, DSS), 2 Footloose (Stewart Geeves, RYCT), 3 Lawless, (Stephen McElwee, PDYC).
AMS: 1 Off-Piste (Paul EInoder, RYCT), 2 Philosopher, 3 Footloose.
PHS: 1 Crescendo (Vaughan Lynch, BYC), 2 Lawless, 3 Off-Piste.
Philosopher, arguably the gun boat of the Derwent Sailing Squadron fleet in Hobart, won what skipper Shaun Tiedeman describes as a 'full on' race down Tasmania's rugged East Coast. In the early hours of Saturday morning Philosopher stood by the dismasted yacht RAD in a 50 knot nor-wester off Tasman Island. Once it was clear that RAD's crew had everything in hand, Tiedemann and his young crew sailed on to finish fourth in fleet and provisionally first in IRC handicaps and thus overall winner of the race.
"Awesome crew work from the 'Offshore Philosphers' for the entire race – Sam Tiedemann, Andrew Davison, Nelson Brown, Alec Bailey, Tom Stearnes, Nicholas Corkhill and Shaun Tiedemann," the skipper wrote on the team's facebook. "It was a fantastic effort in getting Philosopher to RAD who had lost their rig south of Tasman," added Tiedemann, who is general manager of the Derwent Sailing Squadron. "The race was full on – the Banks Strait nightmare where we missed the tide and parked for six hours; bouncing off an uncharted 'bully'; a ripping kite run al the way down the East Coast; and a fresh to fierce trip around Tasman and into Storm Bay in a 40-50 knot blow. "The lads raced the boat hard all the way and the result is a credit to the team….outstanding sailors…outstanding seamanship," Tiedemann added.
On Wednesday, 2 January 2019, Philosopher will be out on the Derwent again to defend her title of King of the Derwent, this year's event sponsored by Derwent Boat Sales.
Then, late in January later she will heading north again, crossing Bass Strait to contest the Australian Yachting Championships on Port Phillip. Philosopher is the current Division 3 IR champion.
Of the 26 starters in the L2H, 18 boats finished the gruelling race with line honours going to The Fork in Road (Gary Smith) and Lawless the last boat to finish on Saturday evening.
Words: Peter Campbell
Photos: Peter Watson
14:00/30 December 2018
Riversdale Estate I Derwent Sailing Squadron Inc I Tamar Yacht Club IPhilosopher Sydney 36CR FBYD Modified. I Shaun Tiedemann I Stewart Geeves I Vaughan Lynch I Sam Tiedemann I Andrew Davison I Nelson Brown I Alec Bailey I Tom Stearnes I Nicholas Wellard I Fork In The Road Sailing I Gary Smith I Port Dalrymple Yacht Club I Royal Yacht Club of Tasmania I Bellerive Yacht Club I Peter Watson I Peter Campbell
Categories:
Uncategorized