Small boats head handicap standing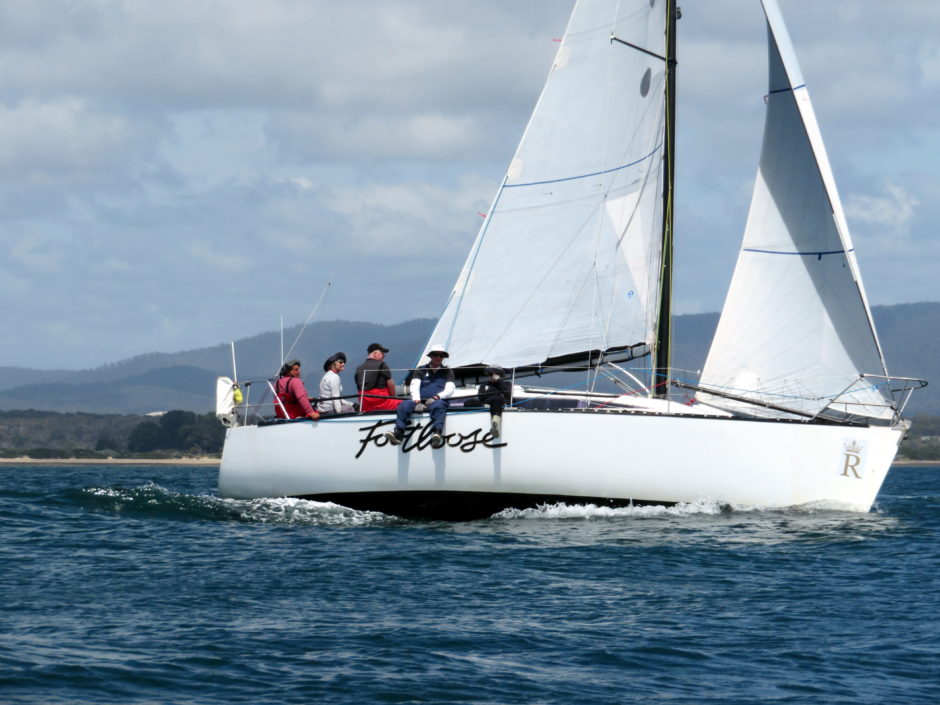 With the fleet bunching up off the Freycinet Peninsula tonight, three of the smaller boats are now heading handicap standings in the Riversdale Estate Wines Launceston to Hobart race.

At the same time, the overall fleet lead has changed once more with Gary Smith's The Fork in the Road this afternoon edging past Peter Cretan's Tilt and opening up a lead of 1.5 nautical miles.
The Young 88 Footloose has maintained her top PHS handicap position as fleet swept southwards before a northerly breeze that gusted to 33 knots.
Footloose, skippered by Stewart Geeves, had moved to the top of the AMS and PHS leader boards as the fleet lay almost becalmed in the Banks Strait on Wednesday night.
The top rankings have also changed this afternoon, with conditions again favouring the smaller boats in the fleet.
Leading the IRC category is Mako, Phil Soley's 9.1m Farr-design, while at the top of the AMS leaderboard is John Dreydon's Lyons-designed Mount Gay 30, Prion.
It was not until after sunrise today that the leading yachts were able to clear Banks Strait with Jeff Cordell's B&G Advantage narrowly heading fleet from Gary Smith's The Fork in the Road and Peter Cretan's Tilt.
Once past Eddystone Point, Cretan chose to continue on the rhumbline course close inshore while The Fork in the Road gybed out to sea.
At 3pm the three leading boats, Tilt, The Fork in Road and Bret McKay's Radford 35, Rad were each making 14 knots, with The Fork in the Road just two miles astern of Tilt, followed by Rad, B&G Advantage, Richard Grant's Cromarty Magellan, with David Apln's Team Whistler sixth in fleet.
At that stage Tilt had 147 nautical miles to sail to finish of the L2H which if she can 10 knots plus will bring her to Hobart later tomorrow morning.
Positions changed again as the leaders sailed past the Friendly Beaches and the Freycinet Peninsula this evening, with The Fork in the Road overtaking Tilt. Rad (Brent McKay) retained third in fleet with B&G Advantage in fourth place.
The winds on the southern East Coast are expected to drop away this evening and there could be changes in fleet positions and handicap standings overnight.
Words; Peter Campbell
Photos: Mike Denney
2100/28 December 2017
Categories:
Uncategorized