Tilt leads Fork in the Road through Banks Strait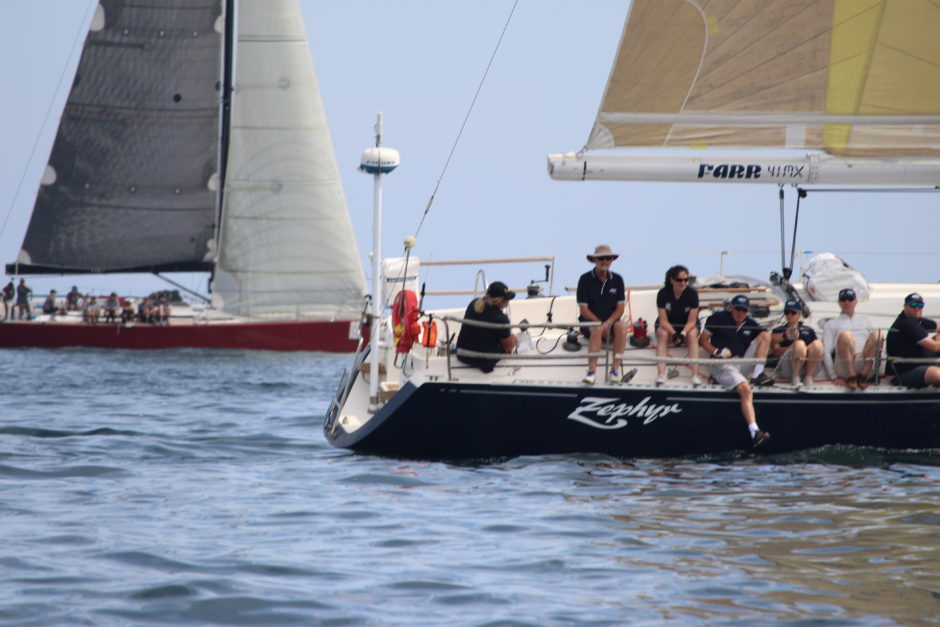 The Marten 49 Tilt, owned by Peter and Catherine Cretan, has led the fleet through the Banks Strait towards the end of day one of the Riversdale Estate Wines L2H 2018 race. However, Tilt was still only a few hundred metres ahead of The Fork in the Road skippered by Gary Smith, the line honours favourite for the 285 nautical mile from the Tamar to Derwent around Tasmania's rugged eastern coastline.
Since the delayed start, a Bass Strait start and barely a zephyr of wind early this morning, the 26 boat fleet has made good progress across the north-eastern coastline of Tasmania in a freshening nor'easter. Tilt and The Fork in Road, and most of the fleet had to make only one tack, to clear Waterhouse Island, before entering the sometimes rushing waters of Banks Strait, the passage between the Furneaux Islands and the north-eastern tip of Tasmania.
At 21:00 hours, the two leading yachts had covered near 80 nautical miles in 11 hours, beating in the nor'easter. Unfortunately, the breeze seems to have dropped away after dark. Third in the fleet and well placed on predicted handicaps is FilePro, the former Sydney Hobart race winner then called Cuckoos Nest. Now owned by a syndicate of Bellerive Yacht Club members and skippered by Tim Gadsby, FilePro is estimated to be first on IRC scoring and second on AMS.
Heading the AMS progressive ranks is Kettering Yacht Club entry, Prion, John Dryden's Lyons-designed Mount Gay 30 which is sailing an exceptionally good race. Another past Sydney Hobart podium placegetter, Stephen McElwee's Green 31, Lawless, from Port Dalrymple Yacht Club at Beauty Point, is ranked number one under PHS scoring and also second on IRC.
The leading boats in the fleet at 21:00 hours today were Tilt, The Fork in the Road, FilePro, Heatwave, B&G Advantage and Rad. Last boat in the fleet was Phase Three, Paul Strong's Zeston 46 cruising yacht.
Words: Peter Campbell
Photos: Peter Watson
21:00/27 December 2018
Riversdale Estate I Derwent Sailing Squadron Inc I Tamar Yacht Club I Tilt Hanse I Peter Cretan I Catherine Cretan I Fork In The Road Sailing I Gary Smith I FilePro Sailing I Tim Gadsby I Bellerive Yacht Club I Kettering Yacht Club Port Dalrymple Yacht Club I B&G Advantage Yachting I Jeff Cordell I Peter Watson I Peter Campbell I Australian Sailing – Tasmania
Categories:
Uncategorized