Tilt regains L2H race lead overnight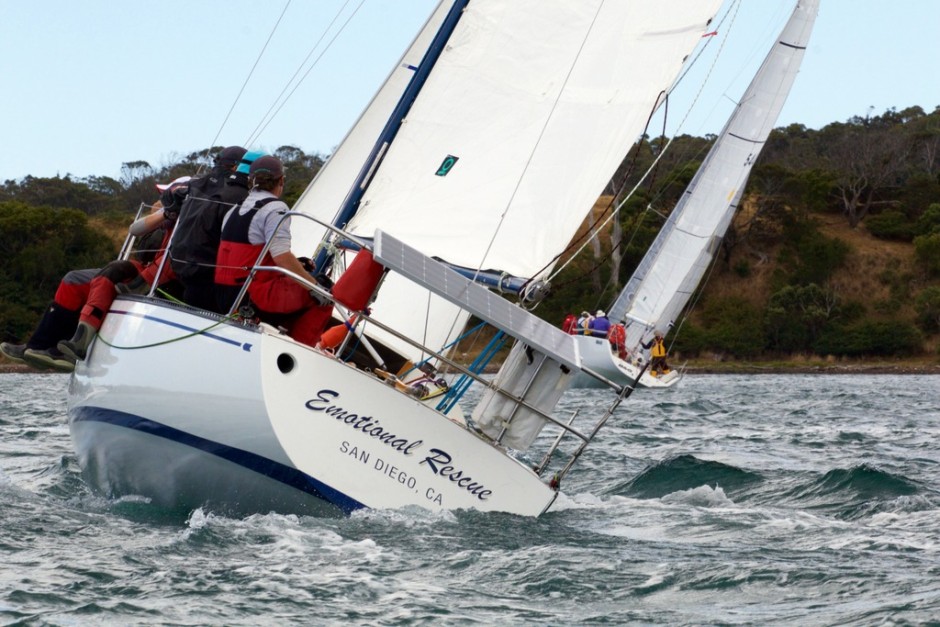 The lead has changed in the Launceston to Hobart Yacht Race with light winds overnight enabling Peter Cretan's Tilt to overtake Gary Smith's race record-holder The Fork in the Road as they sail slowly down Tasmania's East Coast this morning.
Shortly after sunrise,  the two biggest racing yachts in the fleet  were within sight of each other off the Bay of Fires, well ahead of the bulk of the fleet,  reduced to 26 yachts late yesterday afternoon by the retirement of Planet X with a broken rudder.
Tilt and The Fork Road were making between 3 and 4 knots boatspeed but fresher northerly winds are predicted later in the day.
Tilt had led the fleet out of the Tamar River soon after the start from Beauty Point but The Fork in the Road excelled as they ran under spinnakers across Bass Strait in a 20 knot nor'wester to Banks Strait.
By 6am today all yachts had sailed through the Banks Strait into the Tasman Sea with a large group sailing in light and variable winds off Eddystone Point, headed by It Happens, Nexedge and B&G Advantage.
Also well placed were Mr Burger, Winstead Wines, Ciao Baby and Emotional Rescue, all from Hobart clubs, along with Obsession from the Port Dalrymple Yacht Club at Beauty Point.
The smallest boat in the fleet,  Pukana had just sailed past Swan Island to clear Banks Strait.
The light winds overnight and this morning has again opened up the race for line honours, favouring Tilt, a Marten 49,  while the race for handicap honours will virtually start again when the forecast freshening northerly winds eventuate later today.
Peter Campbell
0630/28 December 2015
Categories:
Uncategorized